Pests are a nuisance you have to deal with occasionally in your home, office, garden and garage. What's more irritating is their unique ability to stay undetected when you are around and wreck havoc the moment you are out of sight. Rodents and mice are dangerous as they nibble on your groceries and other food items. They are a source of deadly diseases which can be more threatening if you have a kid in your home. Rats make kitchen pipes, bathrooms, store rooms or your attic their permanent home. As if these were not enough, they give birth to younger ones within a short span of time and together they quickly turn into a family of many. Termites, on the other hand, operate on a completely different strategy. They are almost invisible to the human eye and breed inside wooden furnitures. Termites can turn your expensive wooden tables and wardrobes into dust from the inside without you even realizing for once. Similarly bed bugs are a real concern as they cause excessive skin rashes and irritation. They feed largely on human blood and can survive without food for a year.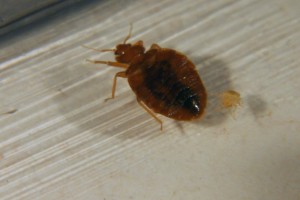 Bed bugs have serious psychological implications
Bed bug infestation is a serious threat to human habitation and their incidence is on the rise from the 1980s. A bug bite may result in no visible skin effects to serious allergic symptoms and blisters. You may start noticing the symptoms a few days after the bite and with repeated bites, skin reactions turn more brisk. Skin allergies occur mostly on the shoulders, arms and legs as these areas are usually the most exposed while sleeping at night. If persistent for a longer period of time, bed bug bites can lead to insomnia, stress and other psychological effects due to sleep deprivation and an unusual mental condition known as 'delusional parasitosis' in which an individual develops overwhelming obsession with bed bugs. Exact reasons for their resurgence are still unclear but experts believe they are a threat due to increasing exchange of second-hand fixtures and furnishings, better abilities to resist pesticides and a general disinterest n controlling these parasites as compared to other pests.
Trust reputed pest controllers for eliminating bugs
Experienced pest management companies offer superior pest eradication services in homes, business premises, storage facilities and gardens. They conduct pest management research and based on their findings, they are able to offer you the latest pest management solutions. When you call an expert pest control agent, he inspects the area thoroughly and then gives recommendations on how to get rid of the problem using the latest tools and applications. You can opt for one-time, monthly or bi-monthly pest control services at very competitive rates. To get rid of those bed bugs, contact a service provider, today!
For expert pest control services, especially for eliminating bed bugs, Murrieta is a good place to find some highly experienced exterminators.