Home lighting is basically designed for providing light and adding to the beauty of home, but in case of bathroom lighting one has to give more consideration to its function friendliness apart from beautification of bathroom.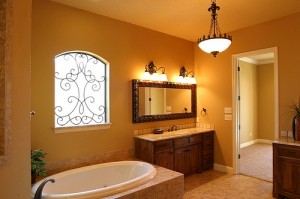 Bathroom is an important part of your home which you and your family use everyday to freshen up and prepare yourselves before stepping out of home. So you need right kind of bathroom lighting. A modern bathroom has now become a place to relax where people read books or lie down and wash away their cares. Bathrooms are therefore serving different purposes to the family members. Bathroom lighting should therefore be so designed that it provides softer light for relaxation and bright light for other uses.
Around the vanity mirror in the bathroom while shaving or plucking you need bright light to reveal sneakiest hair, yet you will expect it to be natural enough not to mess up your makeup. You can have best combination of bathroom lighting with the following suggestions.
Bathroom lighting should not be too dim or too bright. Lighting from sides eliminates shades and casts even lights across your face.
Ensure that bathroom lighting emitting from LED or incandescent bulbs is within natural daylight spectrum. Yellow or white bulbs do not reflect natural skin tone.
Special neodymium bulbs in vanity fixtures provide light which closely stimulates sunlight in the bathroom.
You can use recessed bathroom lighting for lighting up tubs, showers and toilet areas. It can also be angled to highlight decorative design features and tiles in the bathroom.
For exclusive mood lighting, wall mounted fittings provide overall glow to the bathroom. It is best to have bathroom lighting fixtures simpler and chrome finished to match tap-ware. A dimmer switch can also provide right mood to your bathroom lighting.
While getting your bathroom lighting done, make sure to install it as per regulations that apply to hand shower and other types of lighting.