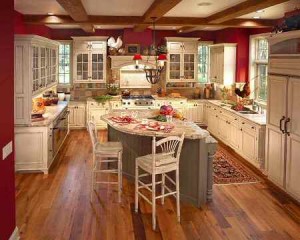 There are a huge number of kitchen décor items that work perfectly for remodeling your kitchen. These accessories and furniture can either create or re-create a beautiful kitchen for you. However, you need to plan out your decorating ideas and select the areas that you want to change. You need to focus on some basic factors to change the total look your kitchen. These include:
Ceiling: You kitchen ceilings need to be as high as possible, in order to avoid any kind of carbon accumulation. Conceal the lights in the ceiling above your cutting platform and preparation counter. This helps in enhancing your cooking efficiency. Moreover, use kitchen chimney and exhaust fans in order to remove smoke.
Layout: The usual layout sequence for a standard kitchen is storage, sink, preparation counter, serving and eating area, oven or gas. Always place all your frequently used kitchen equipment within an arms distance from your cooking area.
Floor: Flooring is an important factor as it sets the tone of your entire kitchen décor. The textural quality of your kitchen floor needs to appeal to the eyes and can have a dramatic effect on the overall decorating ideas. Ceramic or vitrified tiles and slabs are the two most elegant floors, used for kitchen. In fact, ceramic tiles are finest quality product for a kitchen; the only disadvantage of these tiles is the cold feel.
Kitchen Furnishings: Pre-fabricated kitchens are very popular these days. The basic modules in such kitchens include deep units to accommodate gas trolleys and electrical appliances, floor and wall units, wire baskets, adjustable shelves, carousels and pullout units. They are perfect for any type of kitchen décor and can be made from either stainless steel trolley system or powder coated trolley system or a combination of both. They use light and easy to maintain steel pipe structures, instead of wooden pipes. Moreover, the modular compartments have systematic division of space, where you can keep your cutleries separately.
Some useful tips:
Create counter space for making your work comfortable.
Try to place your refrigerator, sink and hob in a triangle.
Keep the refrigerator and the microwave closer for easy working.
If there is no window in your kitchen, then fix glass or glass bricks covering at least half of the area of your wall.
Place little pots of indoor plants and flowers in the window ledge.
You can also grow a small herb garden inside your kitchen.
Opt for open racks by using glass shelves if you cannot afford complete cabinets.